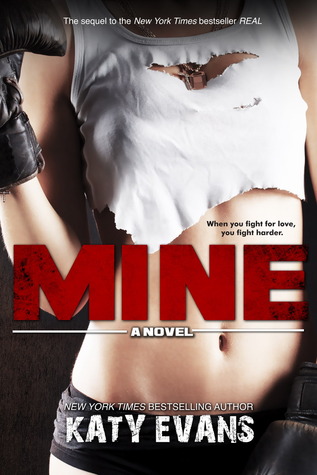 Mine
(Real #2)
by: Katy Evans
★★★★★
He's mine, and I'm his. Our love is all-consuming, powerful,
imperfect, and real...
In the international bestseller REAL, the unstoppable bad boy of the Underground fighting circuit finally met his match. Hired to keep him in prime condition, Brooke Dumas unleashed a primal desire in Remington "Riptide" Tate as vital as the air he breathes... and now he can't live without her.
Brooke never imagined she would end up with the man who is every woman's dream, but not all dreams end happily ever after, and just when they need each other the most, she is torn away from his side. Now with distance and darkness between them, the only thing left is to fight for the love of the man she calls MINE.
my thoughts
You see... I couldn't stop myself, after finishing the first book, to keep going straight to read this book. I needed to know. I craved more. Brooke is so damn lucky to have him. I want my Remy, ASAP. If the first book was good, this one was even better! Oh, man, if you haven't read this, you are missing a bunch.
"You are going to love me until I die. I'm going to make you love me even if it hurts, and when it hurts, I'm going to make it better, Brooke."
This love between them is sweet, but someone is jealous AF. And that one is the Scorpion. Not happy with leaving with a fake victory, he wants to pull off Remy from what he loves to do, fight. Brooke is now a weak spot and the Scorpions knows it. But they have each other and their love will conquer all and of that I assure you that it did.
"I'm addicted to you. You're my crack, and you also happen to be the only dealer."
This book wasn't a total shocker, but to have a little bit more of Remy... I was very happy. In this book we already understand him, but we get to know more. We see some parts of him that I loved and other parts that I liked. I loved how it ends, period. I'm not talking much about these books, because you really like something there isn't enough words to say. Do I recommend these books? HELLS YEAH!