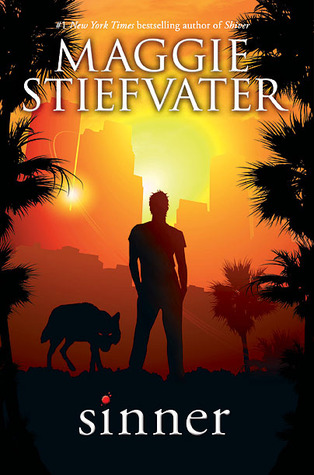 Sinner
(The Wolves of Mercy Falls #3.5)
by: Maggie Stiefvater
★★★☆☆
A standalone companion book to the internationally bestselling Shiver Trilogy.
Sinner follows Cole St. Clair, a pivotal character from the #1 New York Times bestselling Shiver Trilogy. Everybody thinks they know Cole's story. Stardom. Addiction. Downfall. Disappearance. But only a few people know Cole's darkest secret -- his ability to shift into a wolf. One of these people is Isabel. At one point, they may have even loved each other. But that feels like a lifetime ago. Now Cole is back. Back in the spotlight. Back in the danger zone. Back in Isabel's life. Can this sinner be saved?
my thoughts
First of all, this book was not a plan to make in the future for the author or so she says. Its part of a trilogy that it was long ago released, but somehow we (the readers) didn't like how it ended for the secondary characters, Cole and Isabel. In my case, I was one of those readers, but somehow I forgot everything or almost everything about these characters after the time. So when I saw that she was going to release a book of them, I did all my homework to get in my hands the ARC. It's an spoiler free review, but it may contain an slightly spoiler of the trilogy.
As I say, the book is about Cole and Isabel. I totally recommend you, but its more a demand for you to read the trilogy first. After everything that happened in Forever, I was kind of happy to read about them. For my surprise it wasn't like I expect. I don't know if because of the time, but I forgot the characters essence, meaning their ideas, expressions, feelings. Page by page, I keep getting the feeling that I was reading something new and weird. Until I came across, almost at the end, with an scene that make me thought: "this is the Cole and Isabel that I remembered".
Cole goes after Isabel in California and to do so, he "promises" to make a new music album under a producer named Baby, which includes making a reality show. Everyone who knew Cole, thought he was going to get high and be the one he was before he disappeared. But the thing is, that he had a plan. The plan was Isabel... to have a life with her. On the other part, Isabel was not entirely happy living in California. She did not like to moved there in the first place. After her brother's death and her parents being separated, she began to trace this kind of plans that included to graduated, be a doctor and get the hell out of dodge. Until Cole happened.
"We were so little, when you took away all our sins."
It was funny, sad, frustrated and at the end very happy to see how the relationship between Cole and Isabel worked out. They were just two young people with a disaster inside their heads, but they keep living and walking. Making the way while dropping their feet to the ground. Seeing how much alike they thought, but wouldn't say at load in front of each other was frustrating. I pitied them, I sure did, and I didn't like that.
Trying to think about what this book made me feel is sad. I didn't actually like reading it, but it wasn't that bad either. It made me laugh very hard at parts, but most of the time it made me feel confused and frustrated. I cannot tell if I would recommend this book. If you really want to know what happens to Cole and Isabel, go ahead, but if you were ok, then don't read it. I just didn't like it much.