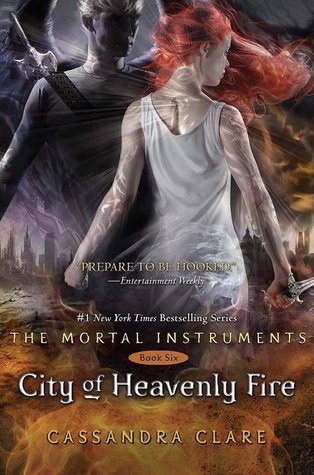 City of Heavenly Fire
(The Mortal Instruments #6)
by: Cassandra Clare
★★★★★
In this dazzling and long-awaited conclusion to the acclaimed Mortal Instruments series, Clary and her friends fight the greatest evil they have ever faced: Clary's own brother.
Sebastian Morgenstern is on the move, systematically turning Shadowhunter against Shadowhunter. Bearing the Infernal Cup, he transforms Shadowhunters into creatures out of nightmare, tearing apart families and lovers as the ranks of his Endarkened army swell.
The embattled Shadowhunters withdraw to Idris - but not even the famed demon towers of Alicante can keep Sebastian at bay. And with the Nephilim trapped in Idris, who will guard the world against demons?
When one of the greatest betrayals the Nephilim have ever known is revealed, Clary, Jace, Isabelle, Simon, and Alec must flee - even if their journey takes them deep into the demon realms, where no Shadowhunter has set foot before, and from which no human being has ever returned...
Love will be sacrificed and lives lost in the terrible battle for the fate of the word in the thrilling final installment of the classic urban fantasy series The Mortal Instruments!
So, it ends. I will tell you something... I was kind of wishing to finally finish this book, and series, but now that I really did finished, I feel lost. I loved these books and I will loved them forever. Cassandra Clare, for me, is one of the best authors in our contemporary (meaning our modern time) books. You need to read works of her and for that you must begin with
City of Bones
. I fear, that if you read this, you may be spoiled about EVERYTHING.
"Erchomai, Sebastian has said."
And it finally came,
City of Heavenly Fire
is here in our hands and I could read what happens at the ends of the most frustration, funniest, action-pack and excellent series I have read in my whole life. The last book leaves us, not exactly with a cliffhanger, but with so many questions that it frustrated us. We keep thinking about what was going to happen and whenever the author gives a line of the book, we felt panic or even more lost that we were.
"Your boyfriend's dead. Thought you should know."
I was trying to figure out how to rate this book. I mean, it's obvious that the book is totally perfectly written and developed, but I didn't quite like some scenes. Sebastian was awfully bad, but I didn't like his end. Although, if I keep thinking I will realize that it was for the best. I DO NOT like the end of Praetor Lupus academy/organization thingy and much less the death of Jordan. It wasn't that I like the character that much, but it was so fast that I didn't quite thought of him dying until it happened. Maia, for the other part, I was kind of fond of how happy she end. After burying Jordan's ghost, she move on and I like that.
"Because I am not your bitch," Alec said, clearly pleased with himself."
I like how much Alec's character grew up in this book. I mean, he was always very wise and thinking in the consequences. Trying to protect everyone and be an example of a true shadowhunter. But here, in this book, we see exactly how he is. He is all that, but somehow before it was fake and now it was real because it came for within him. He made the right choices and I guess that I'm grateful of that. I cannot speak of Alec without mentioning Magnus. Our dear Malec survives the Dark War!
"A rune, hovering like an angel: a shape like two wings joined by a single bar."
The whole heavenly fire thing drove me nuts. I mean, Cassie (the author) is such a cockblocker, from the beginning when she make them believe they were brothers then to bound Jace with Sebastian and finally this. They couldn't touch much because it burns. They couldn't even kiss enough without him imprinting his hands in a brick wall. I love all Jace and Clary scenes, though, because no matter of Heavenly Fire they move on with their relationship and make it so strong that it was how, at the end, they defeat Sebastian. I love the epilogue and even more their lovely steamy-hot-sex scene in the cave. It was basically almost the same as in
Clockwork Princess
with Will and Tessa. Cassie always make us feel what does exactly their hearts felt in the most important moment in their relationships. Of that, I give my thanks and clap hard.
"They landed at Simon's feet. "Take your clothes and go!" Isabelle shouted."
I cannot finish this review without adding one of my favorites couples... Sizzy! I laughed so hard in much of their scenes and even more when Alec came to the picture. Poor Alec, always seeing what he didn't want to see, but alas... such a cockblocker of him to interrupt such scenes. We always saw Isabelle very into Simon, but trying not to reveal to much. WE KNEW THERE WAS A #SIZZY, but somehow we were hoping for some words that give us exactly what we search. I loved this couple with all my heart and Cassie almost teared my heart out with one of the final scenes, but she gracefully put it at rest with the epilogue. Isabelle deserves a happy ending and so does Simon.
"I guess this is the part where we say goodbye?"
Not quite. I deny the fact that the story is over. There are more spin-off books to come and more too see. I hope to know about these characters in the future and laugh with the new ones that are coming. We meet most of them, but I will patiently wait for more. Anyways, there's always time to read them again and discover things that we may forgot. At last...
"Freely we serve

Because we freely love, as in our will

To love or not; in this we stand or fall."