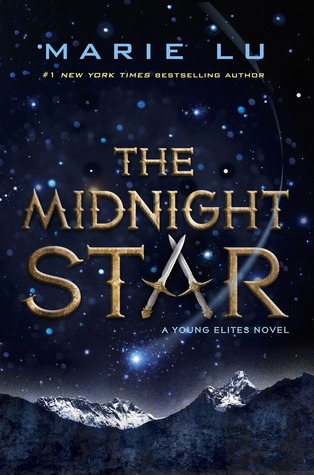 The Young Elites #3
THE MIDNIGHT STAR
by: Marie Lu
Publication Date: October 11th, 2016
Read Date: March 3rd, 2018
Genre: Fantasy, Young Adult
Format: Hardcover (from Library)
Pages: 316
There was once a time when darkness shrouded the world, and the darkness had a queen.
Adelina Amouteru is done suffering. She's turned her back on those who have betrayed her and achieved the ultimate revenge: victory. Her reign as the White Wolf has been a triumphant one, but with each conquest, her cruelty only grows. The darkness within her has begun to spiral out of control, threatening to destroy all she's gained.
When a new danger appears, Adelina's forced to revisit old wounds, putting not only herself at risk, but every Elite. In order to preserve her empire, Adelina and her Roses must join the Daggers on a perilous quest—though this uneasy alliance may prove to be the real danger.
my rate
Two days later after finishing this book, I haven't found the words of what to say about it. In reality, I never have words every time I finish a book, so that's nothing new. But that means I have a serious problem with using the words that I have.
Midnight Star is a book that I dread to read for like a week, then I remembered that it is a Library book that I have to finish and not keep it forever. I speed forward the whole book in one day even though I was hating how everything was going downhill. Somehow after the end of book two, you kind of expect everything that happened in this one, but you are not prepared when it actually happens. So that's how I felt through all the pages. Spoilers are ahead, so BEWARE if you didn't read the before books.
All the Elites came to the conclusion that their powers are the ones that are going to kill them. What they didn't know, is that the ripple of power in the world wasn't natural, so the world is dying thanks to them. The Elites must give up their powers to save everyone and everything. Adelina is power hungry. Her own power is making her crazy and SHE knows it. She doesn't want to give up her power, but she wants to save her sister. What will you choose, Mi Adelinetta?
Look, my favorite character is Magiano. I fell in love from page one that he was in. I sobbed when the end didn't make him as happy as I wanted him to be. I hated that Adelina was so selfless to save her sister that didn't think of him. But I was grateful enough with Violetta for giving him hope. Because a world without hope will be consumed by fear.
Overall, the conclusion was perfect for the story, but not happy enough for me. I'm a happily ever after kind of gal, so I got no regrets. Either way, I recommend the series. The fantasy of it is amazing! The myths were truly spectacular and every little bit of mythology stories made everything way better. Read the books!
past reviews