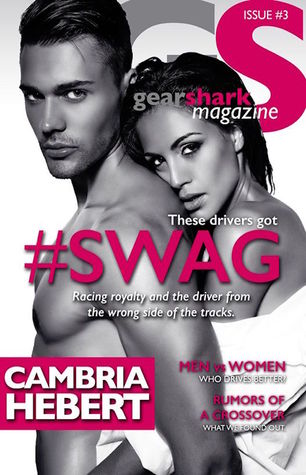 (GearShark #3)
by:
Cambria Hebert
★★★★½
These drivers got #swag…
Racing is in her DNA.
Right alongside money and power.
When you're the daughter of one of the most powerful men in the country,
you have to work harder for success.
Joey Gamble's a girl on a male-dominated track.
With a daddy who can buy whatever she wants.
But she doesn't want anything… except to EARN her reputation.
Racing is his passion.
Trouble follows him everywhere. Some even say he invites it.
When you're nipping at the taillights of the best driver in the new NRR,
you have to fight and claw for each and every success.
It's never been easy for Lorhaven.
That's why he doesn't play by the rules.
He's a man with a serious chip on his shoulder against the pro racing circuit.
We at GearShark want to know what's up with that.
We've also been hearing rumblings…
of a pro who wants to go indie.
We've invited racing royalty and the driver from the wrong side of the tracks to sit down and talk to us about a possible crossover.
We expected sparks to fly when Joey and Lorhaven crossed paths.
Will those sparks ignite into a full-on inferno?
I finally read it! Do not judge, I was between not having time or fighting a really heavy reading slump. But, now, I have finally read it. The book had all I was expecting in the story. Maybe a little fast, but I'm still overjoyed with the result.
From the start, I knew, I knew that Lorhaven and Joey were going to end up together. I'm still a little sad that Arrow's story did not came first, but now I know why (you'll know if you read it). I knew I was going to love Lorhaven as much as I love the other Hashtag men. Rome still my number one, but Lorhaven did not let down. Joey is the best girl I have read so far of Cambria and I'm really damn proud of her. Joey is the definition of kick-ass, sassy and smart mouthed. Both together made an excellent couple!
You see, I look at all these characters and I see a giant happy family. Having all of them together and happy make me ecstatic. So happy that I always want more. I hope for this huge little novel of all the characters reunited years later... like this sort of extended epilogue. A girl can dream. Overall, Cambria's Hashtag books never let down and the best part is that you can re-read them every time you want because somehow they just get better.
Next book in the series is #Bae and #Blur... and I just cannot wait a lot. I want them ALL now! You all be sure to read this series because is the shit.