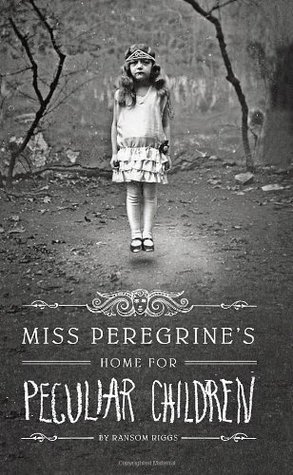 Miss Peregrine's Home for Peculiar Children
(Miss Peregrine's Peculiar Children #1)
by: Ransom Riggs
★★★★★
A mysterious island. An abandoned orphanage. A strange collection of very curious photographs.
It all waits to be discovered in Miss Peregrine's Home for Peculiar Children, an unforgettable novel that mixes fiction and photography in a thrilling reading experience. As our story opens, a horrific family tragedy sets sixteen-year-old Jacob journeying to a remote island off the coast of Wales, where he discovers the crumbling ruins of Miss Peregrine's Home for Peculiar Children. As Jacob explores its abandoned bedrooms and hallways, it becomes clear that the children were more than just peculiar. They may have been dangerous. They may have been quarantined on a deserted island for good reason. And somehow—impossible though it seems—they may still be alive.
A spine-tingling fantasy illustrated with haunting vintage photography, Miss Peregrine's Home for Peculiar Children will delight adults, teens, and anyone who relishes an adventure in the shadows.
my thoughts
Oh holy moses! This book open my mind like no other. The incredible world of peculiar people itsn't scary, is wonderful. I just open the book and fell in a wonderful world of peculiar people. No matter when I was, I opened the book and read.
"...so one day my mother sat me down and explained that I couldn't become an explorer because everything in the world had already been discovered. I'd been born in the wrong century, and I felt cheated."
The story is almost like a diary, but made it a book with pictures. It follows the life of Jacob Portman. When he was little, his grandfather (Abe) told him stories about when he was young. How war was, how his parents died and finally found the Home for Peculiar Children. The stories were almost like fairytales. When Jacob began to grow, he believed that those stories where actually fairytales. But the tragic day came and all became true.
"I used to dream about escaping my ordinary life, but my life was never ordinary. I had simply failed to notice how extraordinary it was."
What's a peculiar child? Someone with a gift. If you can see the cover picture, the girl (Olive) can levitate and if you don't restrain her she can fly away without meaning to. Most of these kids are part of a sideshow, but when dangerous things begins to follow their steps to kill them... well, something must be done to protect them. So, the peculiars home are made. They are constructed in loops (which I will not explain) that protected from evil creatures that try to hunted them.
"Their memory was something tangible and heavy, and I would carry it with me."
Jacob work was to follow his granfather's last words. Find the Bird! And after a long journey he find her and the peculiar kids. The problem wasn't find them, was protecting them from the evil creatures. But will Jacob have to know everything, because he is clueless as a kid. Little by little, he discovers that all the stories from his childhood were real, so what is he going to do?
"We cling to our fairy tales until the price for believing in them becomes too high."
The book was absolutly great! I couldn't expect another thing. I accept that I was a little scared at some parts in the beginning, because I was clueless at what I was getting into it. Reading it, was like horror to me and when I saw the pictures...it scared the hellauva of me. But I gave it a shot, read only at daytime, and experience the best journey ever. I loved the characters, the pictures, the story, not so much the end, but overall is a 5 stars book. Totally recommend it!