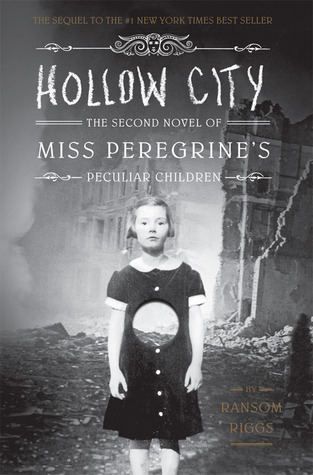 Hollow City (Miss Peregrine's #2)
by: Ransom Riggs
★★★★★
Miss Peregrine's Home For Peculiar Children
was the surprise best seller of 2011—an unprecedented mix of YA fantasy and vintage photography that enthralled readers and critics alike.
This second novel begins in 1940, immediately after the first book ended. Having escaped Miss Peregrine's island by the skin of their teeth, Jacob and his new friends must journey to London, the peculiar capital of the world. Along the way, they encounter new allies, a menagerie of peculiar animals, and other unexpected surprises.
my thoughts
So... I finished this book like a week ago and I was so mad of the end that I didn't want to make a review just there, plus I was busy. But now that I kind have my thoughts together, I might discuss it a little bit. I love the book!
"Strange, I thought, how you can be living your dreams and your nightmares at the very same time."
The whole book was stranger (don't know if that is even a word) than the first book. The kids "escape" from the wights, or so they thought. The book begins right after the last one end, they in little boats running from the island in the search of Miss Wren or someone who could help Miss Peregrine to come back in her human form. These kids experience so much things in their journey that the book swallow you up inside their adventures. We meet more peculiars, even peculiar animals and they were sooooo funny. I mean, who would think that some chickens would make explosion eggs? The book was frustrating, but so enjoyable that I cannot say nothing bad against it. I love love the book, but the romance between Emma and Jacob drove me crazy sometimes, but more against her part. Damn, girl, be happy! Apart from that, read this book and the ones that will be release after.Because this end hope to become a really awesome book soon.
"I liked this idea: that peculiarness wasn't a deficiency, but an abundance; that it wasn't we who lacked something normals had, but they who lacked peculiarness. That we were more, not less."