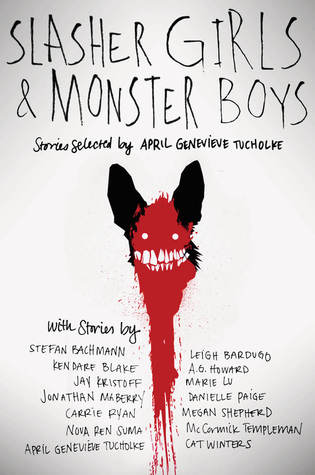 Slasher Girls & Monster Boys
by: April Genevieve Tucholke & others
★★★★½
For fans of Stephen King, Neil Gaiman, Lois Duncan, and Daphne Du Maurier comes a powerhouse anthology featuring some of the best writers of YA thrillers and horror.
A host of the smartest young adult authors come together in this collection of scary stories and psychological thrillers curated by Between the Devil and the Deep Blue Sea's April Genevieve Tucholke.
Each story draws from a classic tale or two—sometimes of the horror genre, sometimes not—to inspire something new and fresh and terrifying. There are no superficial scares here; these are stories that will make you think even as they keep you on the edge of your seat. From bloody horror to supernatural creatures to unsettling, all-too-possible realism, this collection has something for any reader looking for a thrill.
Fans of TV's The Walking Dead, True Blood, and American Horror Story will tear through tales by these talented authors: Stefan Bachmann, Leigh Bardugo, Kendare Blake, A. G. Howard, Jay Kristoff, Marie Lu, Jonathan Maberry, Danielle Paige, Carrie Ryan, Megan Shepherd, Nova Ren Suma, McCormick Templeman, April Genevieve Tucholke and Cat Winters.
my thoughts
I have to admit that I hate horror stories. I have said it before, nothing new there. But this time around, I saw this book and kind of like what it was about. Plus so many people has recommended it to me that I forgot about all the hate, read it and enjoy it a lot. Is it kind of wierd that I read it on Christmas? I think not.
So many known authors and some of them I love dearly, I was totally inside this book. And like in every anthology book I have read, some stories are worth reading the whole book, but others make me want to DNF the whole book too.
The Birds of Azalea Street, by Nova Ren Suma
What a beginning for the book! ​Creepy, weird and just how Nova Rem Suma can make a story. Very mysterious. In the way that you cannot stop reading it. Basically the weirdest things you can read, like all the stories of her.
In the Forest Dark and Deep, by Carrie Ryan
And I thought I was going to be a fan of Alice in Wonderland.​ I have never read it, but this book knew how to creep me out of it. This was creepy creepy.
Hide-And-Seek, by Megan Shepherd
THIS SHOULD BE A FULL LENGHT NOVEL! ​Holy Molly! Playing with death wasn't this fun. I really really like the story and even more because she wins. Take that death! Megan Shepherd knows what I like.
The Flicker, The Fingers, The Beat, The Sigh, by April Genevieve Tucholke
POOR Theo! I suffer for him, but he deserved what he got. And now, I'm interested in at least watching the movie Carrie. Not.
Stitches, by AG Howard
I have never like Frankestein, but I like this story a lot. The end have me laughing at loud, though.
Emmeline, by Cat Winters
It was kind of sad instead of scary, but I sort of like it.
The Dark, Scary Parts and All, by Danielle Paige
I have always LOVE retelling of Persephone and all, but something that I can't point was missing in this story. I think it was because it wasn't scary at all.
Fat Girl With A Knife, by Jonathan Maberry
FUCK FUCK! I double hate zombies. It was a good story, but I hate zombies. Plus, wtf? What it is supposed to happened at the end?
Sleepless, by Jay Kristoff
I loved the plot twist, but I hated the pedophile feeling I was getting and the mother was death by the love of God. BLAH!
Nope, no comment, didn't like:
No offense, I just didn't like the story or it was too fucked up for me to even undertand it.
Verse Chorus Verse, by Leigh Bardugo
M, by Stefan Bachmann
The Girl Without a Face, by Marie Lu
A Girl Who Dreamed of Snow, by McCormick Templeman
On the I-5, by Kendare Blake
Overall, it was a very good read and I totally recommend it to read on Halloween, not on Christmas.