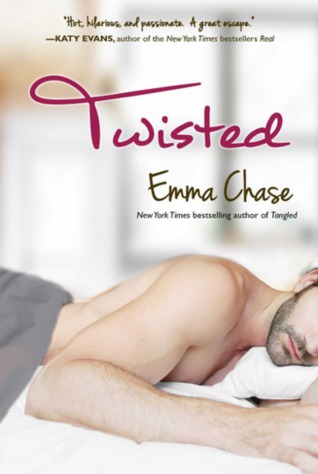 Twisted
(Tangled #2)
by: Emma Chase
★★★★☆
There are two kinds of people in the world. The ones who look first, and the ones who leap. I've always been more of a looker. Cautious. A planner. That changed after I met Drew Evans. He was so persistent. So sure of himself – and of me.
But not all love stories end happily ever after. Did you think Drew and I were going to ride off into the sunset? Join the club. Now I have to make a choice, the most important of my life. Drew already made his –in fact, he tried to decide for the both of us. But you know that's just not my style. So I came back to Greenville. Alone. Well, sort of alone....
What I've come to realize is that old habits die hard and sometimes you have to go back to where you began, before you can move ahead.
my thoughts
Well, time has passed and I definitely need to write a LOT of reviews, but for what is summer for? I wrote the review of the first book right after I finished it, but it was hard with this book. I did not felt related with Kate's POV and it was just hard to read it all, BUT I wanted to know so I kept reading.
The book starts with Kate on a swing thinking about what had been going down in the last few days/weeks (?), I don't remember. Then Kate begins to tell us her side of the story, which isn't kind of a good point of view, because is sort of biased. We don't know about Drew until later on. Things can get freaky when people get into conclusions without knowing the real facts, and then regretting their decisions because they didn't think it through. That is basically what this book is about, plus we will have new company or what Kate called in the blurb "Well, sort of alone...".
Yes, the book was funny. Yes, Kate is biased, but still made me laugh. No, she isn't had full mouthed as Drew, but oh well. Yes, I wanted the whole book of Drew's POV not Kate's, but oh well. Basically the book was good enough to be read, but not enough to remember a whole bunch of what happened. But I remember laughing a lot about Drew's niece asking questions around and of course, Dolores talking about ripping Drew's balls. Overall rating, it was an ok read of four stars (and that's generous).
"Falling in love is easy, staying in love is hard."